Waking In Wyoming
Bridgegate
Last night was not my best sleep. The white noise from the river running was wonderful when I was awake, but too loud and too much like howling wind, so I woke up after only short bursts of slumber. I wish I'd put in my earplugs, I think they would have helped. To top it off, my pad deflated, which just made the bad situation with my back worse.
While the humidity was not much indication, this was our first night at altitude, as Ayres Natural Bridge sits at about 5,000 feet. Usually it's pretty dry here, but the forecast dew point was actually close to our overnight low. Thankfully, though, dew wasn't too bad a problem as our tent was dry on top. Since we're now rather high, it's time for the peeing to begin, as we have to drink ample water to stay hydrated.
So now you know what motivated me to get up at 6am. After this, I thought about the park gate—didn't it say they lock the gate between certain hours? Sure enough, the checkin slip says the gate is *locked* from 8pm to 8am—and my notes indicated we needed to leave by 7am! So does that mean we're stuck here until 8??? Since I didn't feel a bit like trying to get more sleep and I didn't know if I should wake Becky up, I needed to investi-gate!
Investi-gate
I didn't want to leave Becky without the car or wake her up, so I decided just to hoof my way to the gate and determine the situation before proceeding. I guess my attempts to get into better shape before we left paid off, since I had hardly any trouble at all hiking the 1/2 mile or so uphill at 5,000 feet to the gate. Turns out it's electric, and a car parked in front will trigger it—so we can leave anytime we want—fantastic! Now to go get back to Becky and start packing up camp.
By the way it was a beautiful morning, even though a bit overcast. The clouds and the colored light of the rising sun really made the mountain in the distance to the Southeast look dramatic! My hike also caused me to cross paths with several creatures, including a big black beetle and several rabbits.
Breaking Camp
By the time I returned, Becky was already astir and ready to help break camp. We got everything put together by 7am, but I had to take advantage of the much brighter light to get some photos and video before we left…which didn't happen until about 7:20 or so.
Pit Stop In Casper
We stopped just inside Casper for gas, mostly so I could clean the windshield and of course, pee again. I really picked the wrong gas station though…an older gentleman stood outside the restroom…and there was a handwritten "OUT OF ORDER" sign on the men's room door. He sheepishly went into the women's room, and then came out saying something about the flapper on the toilet…oh man. I walk in, see the cover off of the toilet tank and decide I'll figure it out, and tried to close the door. Seriously??? The door was not properly hung, so I couldn't close it! I didn't have the time to monkey with it, so I closed it as much as possible and hoped for the best. I did have to make sure the flapper in the tank didn't get hung up on the lever pulling it open, but otherwise everything went fine after that.
I ran back outside to work on the windshield and apologized to Becky for picking the worst possible gas station. I guess it was clean…but they really need a handyman to get things in proper order. Becky came back a couple of country songs later (the pickup truck song really got me working faster) and we got back on the road.
A New Route To Yellowstone (For Us)
Now the usual road to Yellowstone for a lot of people from the East is to cross South Dakota and most of Wyoming on I-90, and then to take either US-16 from Buffalo or US-14 from Rochester. We did that route with US-16 on our first trip back in 2015, passing through Ten Sleep Canyon and Cody. Since we were coming through Casper farther south this time, we would continue to follow US-20 and pass through Cody again. This would give us an opportunity to see some new parts of Wyoming.
I-25 between Douglas and Casper mostly follows the North Platte River, with mountains off in the distance, mostly to the south. After we diverged to stay on US-20, the road basically passes through barren lands without much of a view of anything but grass, sagebrush, and an occasional oil or gas well until you get to Shoshoni.
Hells Half Acre
Our first stop, Hells Half Acre, breaks up this drive. This rugged canyon actually sprawls 320 acres, and appears to have at some point had a building there, but all that's left now is the foundation.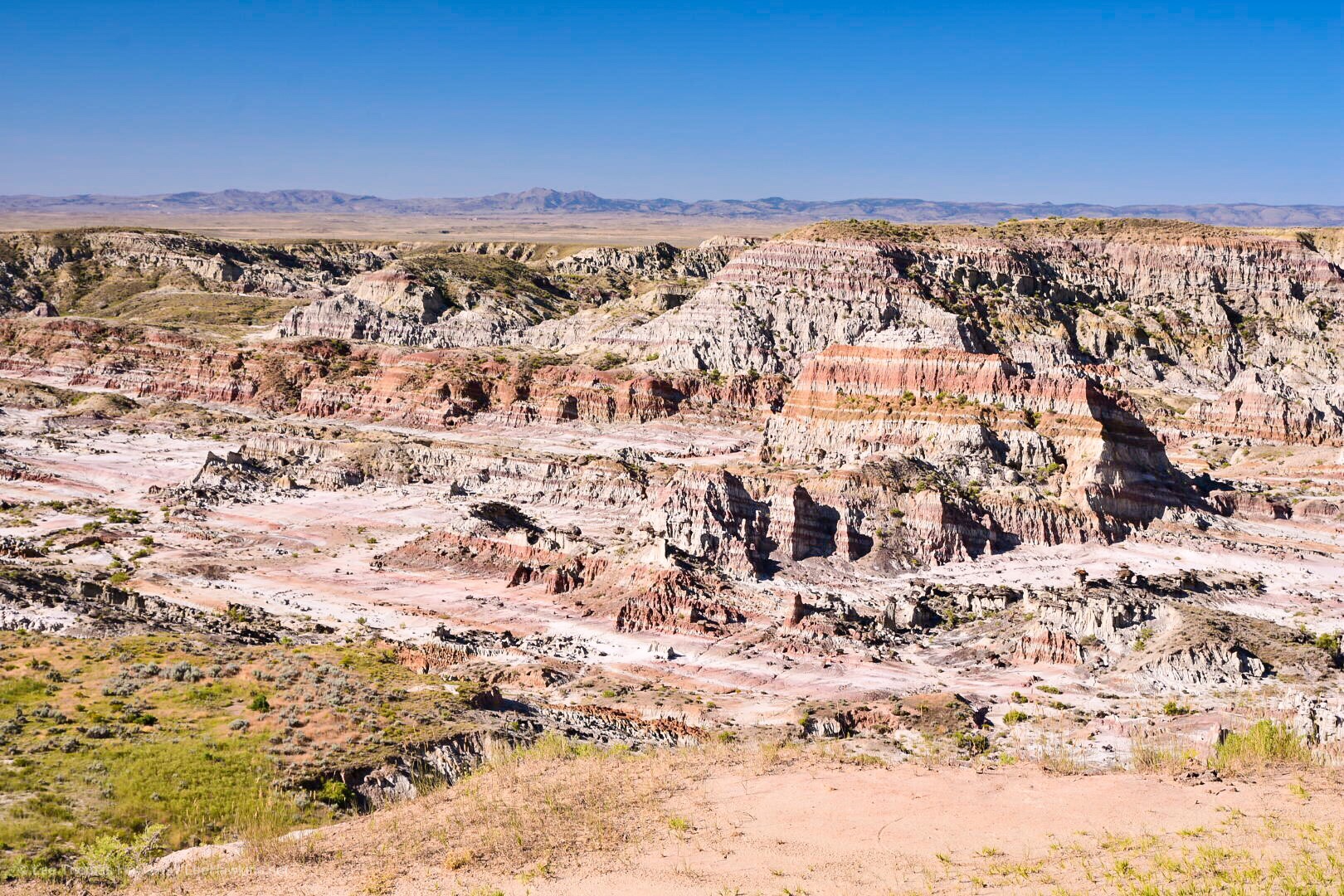 Continue reading RealImaginaryWest 2019 Day 4—Our Return to Yellowstone