Despite getting in late last night, I was awake at 5am. I suppose it's always harder to sleep in a new bed. By 6:30am we were out of the motel and refueling across the street. With all of our meat still solidly frozen, there was no need to buy ice for the cooler. After Becky grabbed a coffee at Starbucks, we were back on I-90 again by 6:50.
Crossing Wisconsin & On to Minnesota
It was a beautiful morning! Last time we passed through Wisconsin, the sky was a very strange color due to forest fire smoke from way up in Alaska and Canada. This time we had magnificent sunny blue skies and good early morning light. Wisconsin is wonderfully green and pretty in summer. We'll definitely spend more time here on some future road trip.
Since we got going early, there were no traffic problems through the often-congested Wisconsin Dells area. When we crossed the Mississippi River into Minnesota near LaCrosse, our chances of hitting any traffic at all dropped to almost nothing.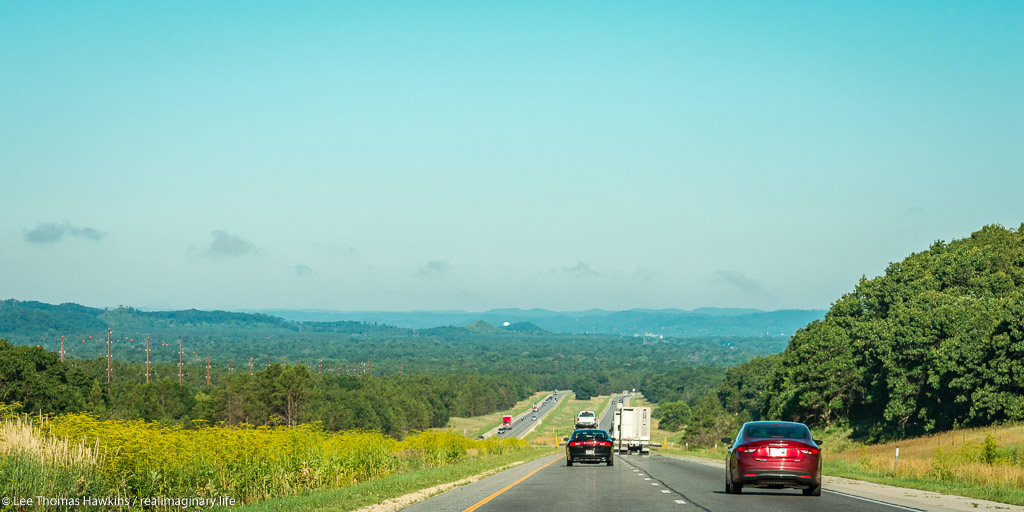 In the past we'd never been on I-90 across Minnesota beyond the first exit. We gradually worked our way west from Pepin along the Mississippi through heavily-wooded regions of the state. As we passed directly west this time, we noticed a significant transition in the nature of the land. After winding up the hill from the Great River and onto Minnesota's rolling hills, it was as if all the trees were different and more sparse. The land also transitioned from mostly woodland to entirely agricultural. This dramatic change told me we were now on the Great Plains.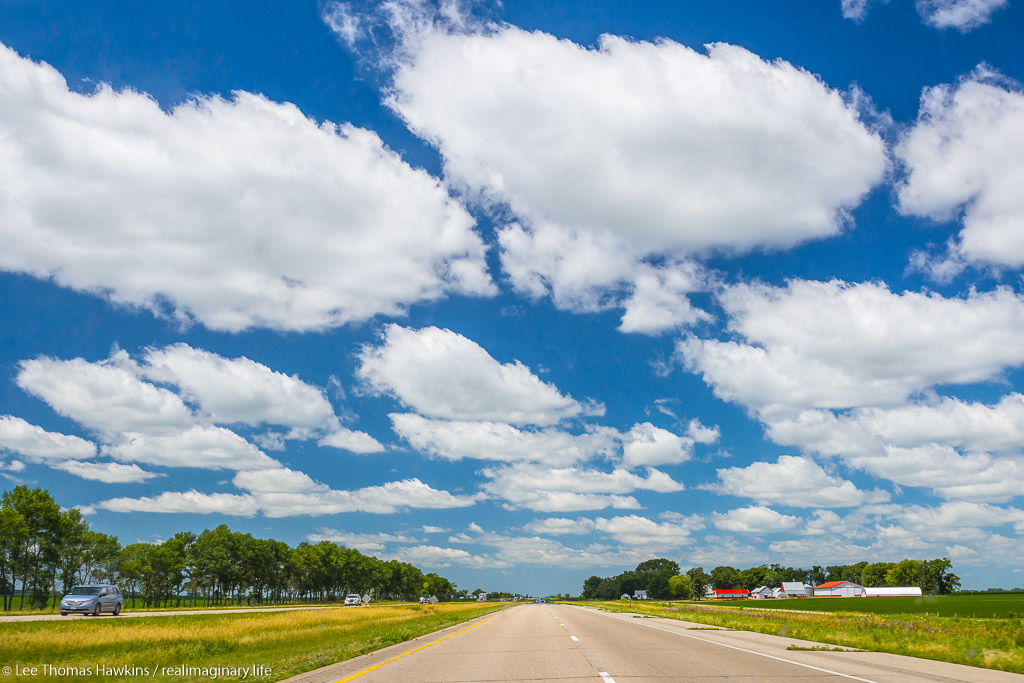 Green Giant Statue Park & Blue Earth, Minnesota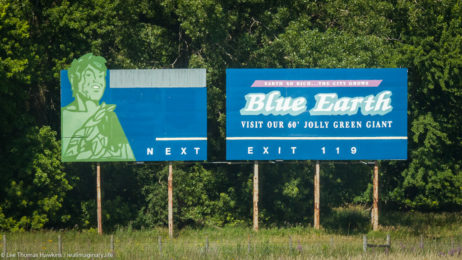 By 10:50am we'd crossed half the state. We stopped for an early lunch in a small town called Blue Earth. Besides the town's eccentric name, it also has a 55-foot, 8,000-pound statue of the Jolly Green Giant we have all seen on numerous Green Giant labels and television commercials. He made his first appearance at the dedication of I-90, as the very last section was completed near Blue Earth in 1978.
The Story of the Jolly Green Giant Statue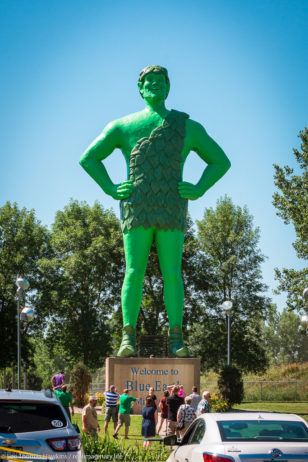 At the time, the Green Giant company operated a canning plant in Blue Earth and was headquartered 60 miles north in Le Sueur. The idea for erecting the statue to attract travelers on the new transcontinental freeway originated with local radio station owner Paul Hedberg. On his weekend program he would interview families passing through Blue Earth on US-169, providing them with samples of Green Giant vegetables. Many children inevitably asked where they could see the Jolly Green Giant. So with the company's blessing, Mr. Hedberg assembled funding from local businesses to bring the Giant to life in time for the freeway dedication.
One year later, the Green Giant company merged with Pillsbury, and the brand has changed hands a few times throughout the years. However. another company still continues to can corn and peas at the plant in Blue Earth. And the statue attracts 10,000 annual visitors. Each year the Giant Days festival is held at the adjacent Fairbault County Fairgrounds.
Continue reading RealImaginaryWest 2017 Lite Day 2 – The Jolly Green Giant & the Big Badlands