Here We Go Again
After weeks and months of planning, we're on the road again! We traveled 11 states, visited 5 national parks, and visited 3 Laura Ingalls Wilder towns in 2015. It was our very first big Western road trip. We loved it so much that we're doing it again this year!
My biggest hope is also my biggest fear. (That's when I figure the payoffs are biggest in life!) I hope that this year's ambitious trip to travel the Oregon Trail route all the way to the coast and to four (maybe five) national parks will be doable on a realistic timetable. I really hope that it will be fun and…dare I say…epic like last year's trip!
The Road to Davenport
So far, we've gotten off on the right foot. We left slightly earlier than I'd hoped, at 3:40pm EDT. We made great time, getting all the way to the Mississippi River in Davenport, Iowa at 10:10pm CDT. That's 7 1/2 hours, despite some traffic near Gary, Indiana…not bad!
We checked into the Super 8 Davenport for the night. It's much easier to stay in a motel when we leave after work on Friday. It allows us to push across Ohio, Indiana, and Illinois into unexplored territory (for us). For the second year in a row, we ended our first day in a state that neither of us has been in before.
There was a concern we'd get into some bad weather on the way out. We saw some rather ominous clouds in Eastern Indiana. Becky took a look at the radar and informed me that we were passing through a tiny break between two sets of clouds, but that we should miss the storms. What a great way to start 17 days on the road!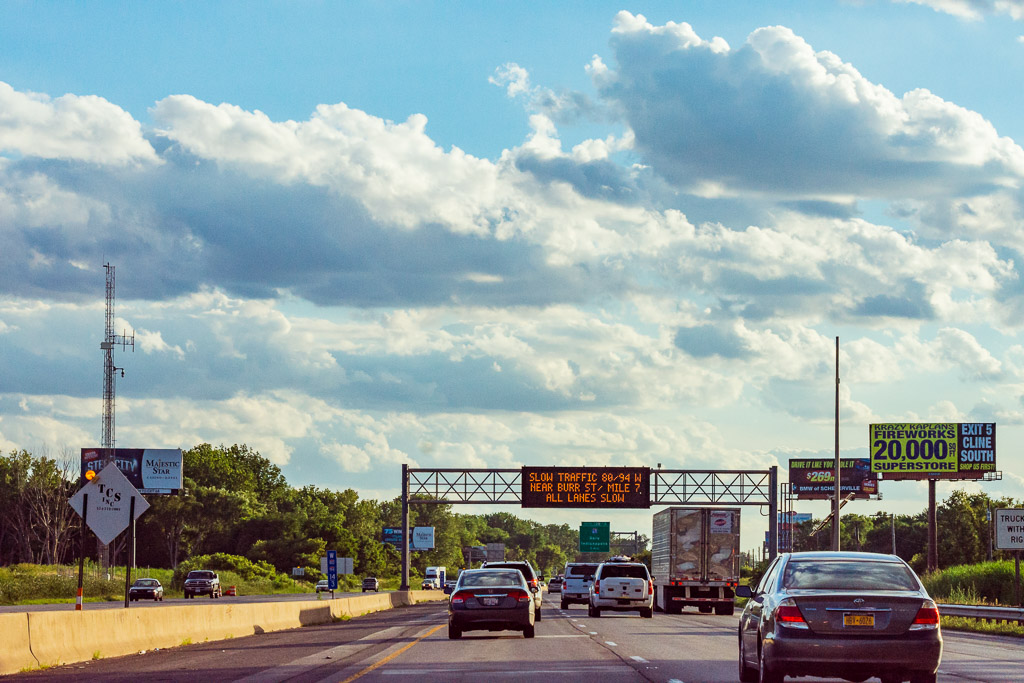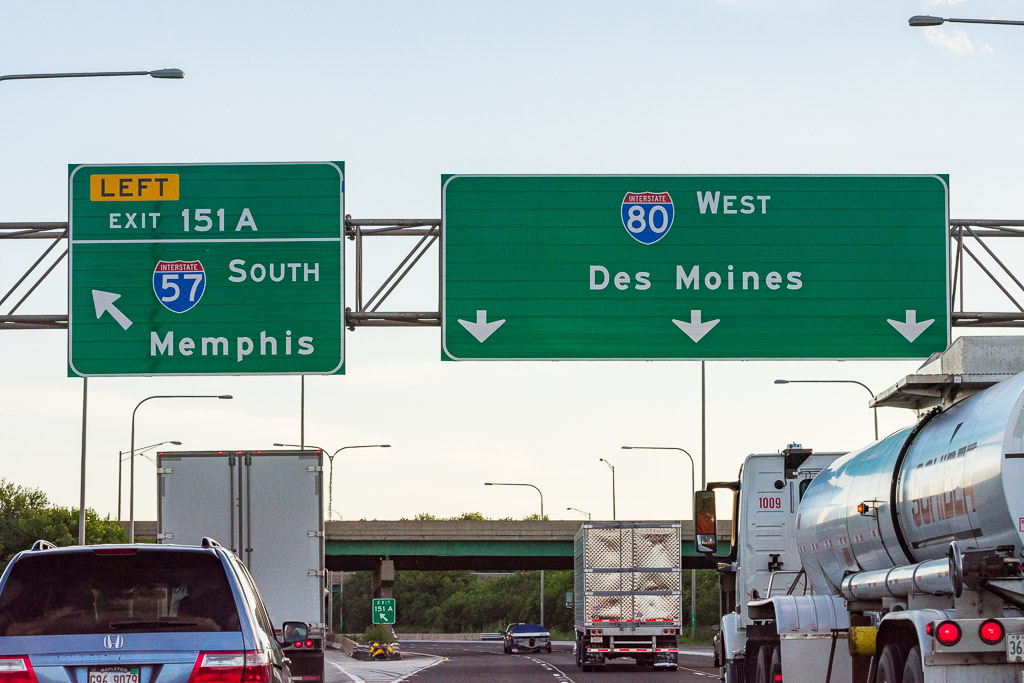 Preparations
This week was a flurry of cleaning our house and making last purchases and preparations before our trip. I managed to complete all of our key housecleaning, which will be awesome to come home to. I'm sure our house sitter, Nick, appreciates it too.
Equipment Upgrades
I feel like we made some important upgrades to key equipment this year, so we should be in better shape to withstand the tougher elements should we face them. For starters, Becky and I both bought hiking boots that should improve our trail experiences dramatically. Also, our air mattress has been replaced with a pair of sleeping pads that are thinner, thermally insulated, take far less time to inflate and deflate, and take up a lot less space too. Finally, our new REI Half Dome 2 Plus tent has a lower profile and metal poles, so it should hold up much better in harsh weather than our old Coleman tent.
Last year wind and rain on the Great Plains drove us to ditch our tent and endure sleeping in our car. This was harder than we thought, as we struggled to recline the seats on account of the mountains of stuff we had in the back seat! So besides upgrading to better and smaller versions of what we had, we've slimmed down enough that only our trunk is tightly packed—our back seat is almost completely open!
This means we can take on passengers! Becky's sister Rachel and her husband Tim are flying into Portland to meet up with us on Day 5. They'll join us in our car and at our campsites at Olympic National Park for three nights. On Day 8 we move on to Mount Rainier National Park with a stop in Seattle, where Tim and Rachel will catch a flight back home.
Better Planning
While we're only visiting four (maybe five) national parks this year, we will cover a lot more ground. Last year we put nearly 5,000 miles on our rental car. This year I believe we may surpass 6,000 even though we have one less day.
The funny thing is that I actually know that this year! In almost every road trip I've ever taken, I would have a general idea of what I wanted to do, but I would deal with specifics on the fly—this includes both our RealImaginaryWest and RealImaginarySmokies trips last year. I might have gotten away with this on less-complex and shorter excursions, but this consumes way more time and creates a great deal of stress for both of us.
Now armed with last year's experience, I'm taking a totally different approach. I wore Becky out cramming too much in on certain days last year. I believe my fast and loose planning was the real problem. I've done my homework this time and made a ton of notes on everything—from drive times to destinations to activities—for every single day. For most of the trip we have plenty of slack, but for the next few days I have a lot of stops planned! I think I've developed a reasonable timetable, but we'll see if it works as well in practice as it does on paper! If Becky's happy with the whole experience, I'll consider it a success.
Fresh Country Air
One last note before I fall asleep… After we checked in, I had to park the car (which, by the way, is a 2015 Chevy Malibu like last year). Although I'm in a hotel in a semi-urban area, I could really smell cow manure out there! This was nothing new to me, having been exposed numerous times growing up in a rural area. But it was sort of funny since the Plains states are well-known for their agricultural significance. So far, Iowa is living up to it, and I have yet to actually see it in the daytime!
Tomorrow's Agenda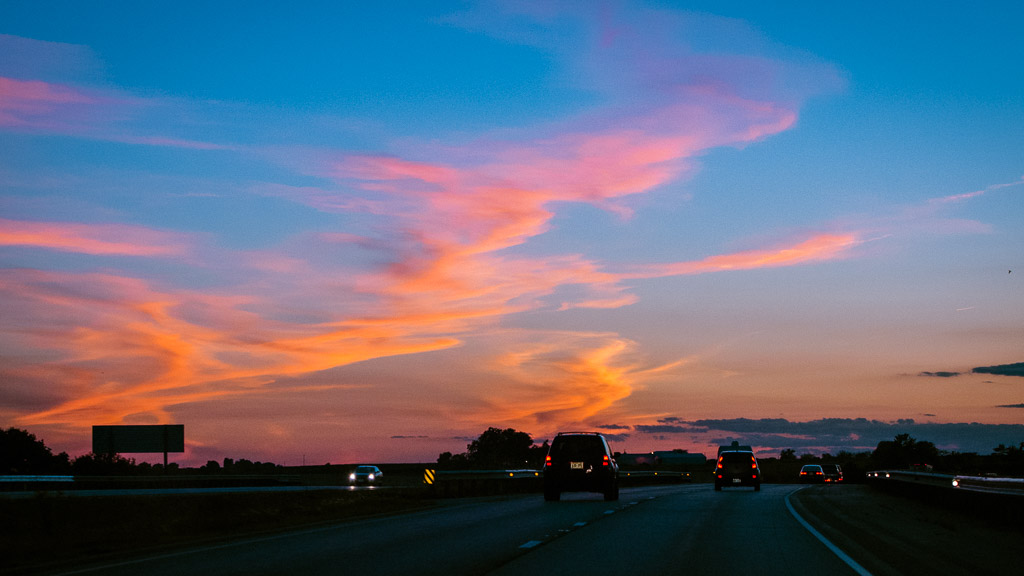 Well I'm out for the night! Tomorrow we traverse Iowa on I-80, crossing the Missouri River from Council Bluffs into Omaha, Nebraska. Hopefully the road is kind to us and we make it to Scotts Bluff by 6:30pm so we can drive to the summit! We finish our day at Chimney Rock—a way cool landmark that most pioneers wrote about in their journals as they traveled West along the Oregon, California, and Mormon Trails.
Let's hope the weather works out and we get a pretty sunset tomorrow evening! It will also be our first night in a tent on this trip…so let's make it a good one!
Save
Save
Save
Save
Save
Save
Save