Despite getting in late last night, I was awake at 5am. I suppose it's always harder to sleep in a new bed. By 6:30am we were out of the motel and refueling across the street. With all of our meat still solidly frozen, there was no need to buy ice for the cooler. After Becky grabbed a coffee at Starbucks, we were back on I-90 again by 6:50.
Crossing Wisconsin & On to Minnesota
It was a beautiful morning! Last time we passed through Wisconsin, the sky was a very strange color due to forest fire smoke from way up in Alaska and Canada. This time we had magnificent sunny blue skies and good early morning light. Wisconsin is wonderfully green and pretty in summer. We'll definitely spend more time here on some future road trip.
Since we got going early, there were no traffic problems through the often-congested Wisconsin Dells area. When we crossed the Mississippi River into Minnesota near LaCrosse, our chances of hitting any traffic at all dropped to almost nothing.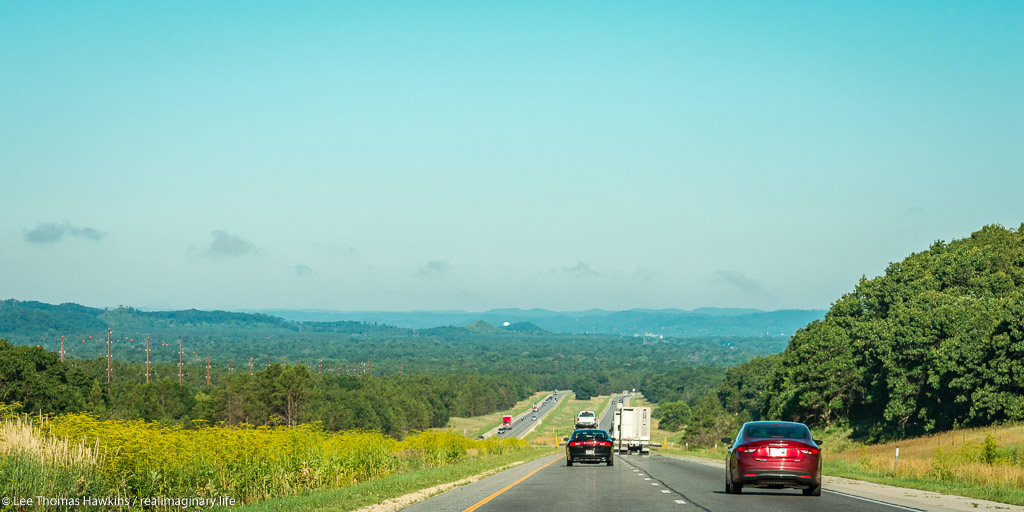 In the past we'd never been on I-90 across Minnesota beyond the first exit. We gradually worked our way west from Pepin along the Mississippi through heavily-wooded regions of the state. As we passed directly west this time, we noticed a significant transition in the nature of the land. After winding up the hill from the Great River and onto Minnesota's rolling hills, it was as if all the trees were different and more sparse. The land also transitioned from mostly woodland to entirely agricultural. This dramatic change told me we were now on the Great Plains.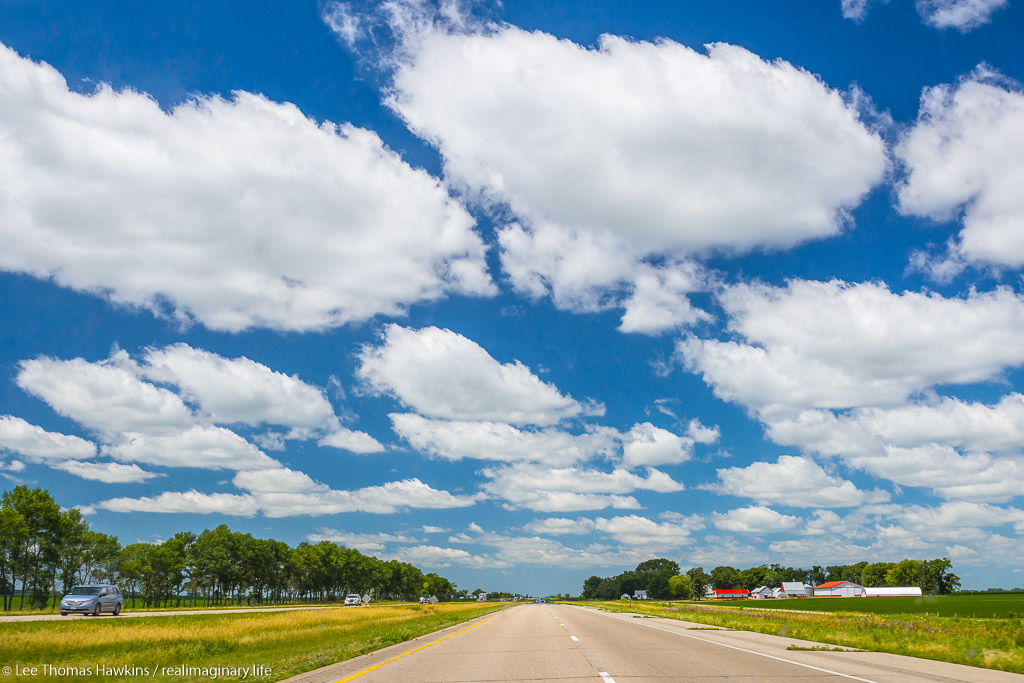 Green Giant Statue Park & Blue Earth, Minnesota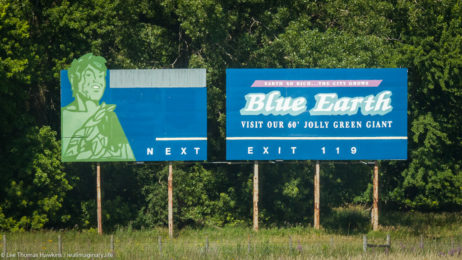 By 10:50am we'd crossed half the state. We stopped for an early lunch in a small town called Blue Earth. Besides the town's eccentric name, it also has a 55-foot, 8,000-pound statue of the Jolly Green Giant we have all seen on numerous Green Giant labels and television commercials. He made his first appearance at the dedication of I-90, as the very last section was completed near Blue Earth in 1978.
The Story of the Jolly Green Giant Statue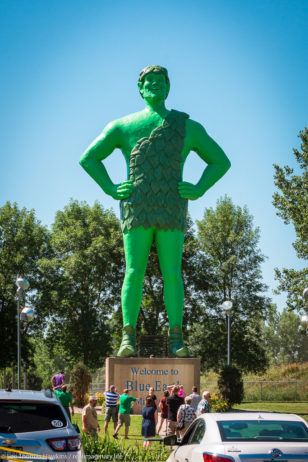 At the time, the Green Giant company operated a canning plant in Blue Earth and was headquartered 60 miles north in Le Sueur. The idea for erecting the statue to attract travelers on the new transcontinental freeway originated with local radio station owner Paul Hedberg. On his weekend program he would interview families passing through Blue Earth on US-169, providing them with samples of Green Giant vegetables. Many children inevitably asked where they could see the Jolly Green Giant. So with the company's blessing, Mr. Hedberg assembled funding from local businesses to bring the Giant to life in time for the freeway dedication.
One year later, the Green Giant company merged with Pillsbury, and the brand has changed hands a few times throughout the years. However. another company still continues to can corn and peas at the plant in Blue Earth. And the statue attracts 10,000 annual visitors. Each year the Giant Days festival is held at the adjacent Fairbault County Fairgrounds.
Picnicking With the Giant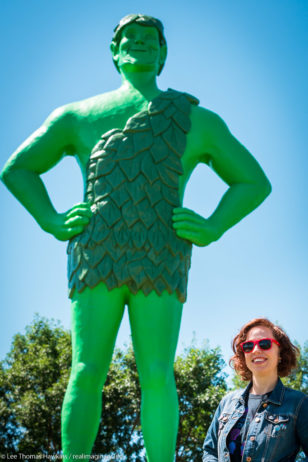 Unbeknownst to us, this festival was happening as we visited! We just thought it would be a good place to have a picnic lunch—and it was. Becky mixed a couple cans of tuna with an avocado, which she ate with blue corn chips and I ate as an open-faced sandwich on a gluten-free bun.
When we finished eating and photographing the statue, Becky started hunting for her sunscreen…which we neglected to pack. I also needed a restroom badly, so Walmart across the street became the most obvious solution to both problems. When we walked in, we realized that this was the smallest Walmart we'd ever seen. But that was OK, since it had sunscreen for Becky and a sparkling-clean restroom for me. We got back on I-90 just after noon.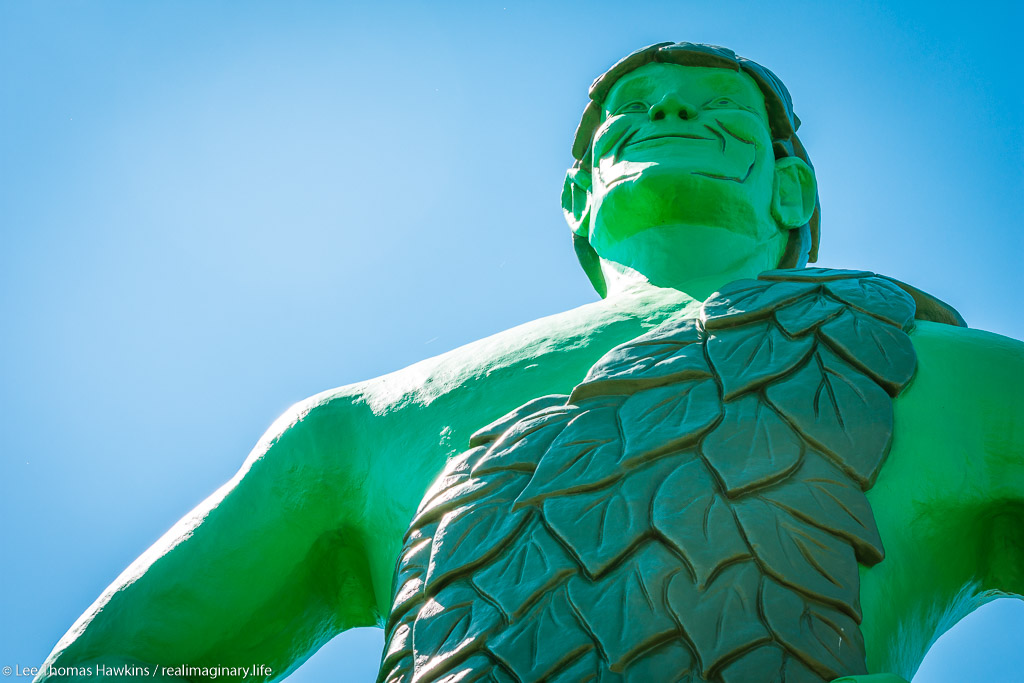 Return to South Dakota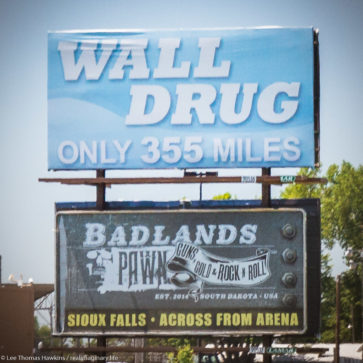 A couple of hours later we entered the state that happens to be the centerpiece of our trip—South Dakota! The only bummer is that our destination at Badlands National Park is actually on the western side of the state…so we still had several hours of driving. South Dakota is fun though…mainly because of the plethora of eccentric tourist gimmicks along the way! One of the state's tourist stops, Wall Drug, has dozens of cheesy billboards along I-90 for hundreds of miles—we even spotted one back in Minnesota! I'll have more on Wall Drug in tomorrow's post, but first we return to another famous South Dakota tourist attraction—the Corn Palace in Mitchell.
Corn Palace in Mitchell, South Dakota
After a quick refuel, we pulled up to Corn Palace in Downtown Mitchell at 3:20pm. The 100°F heat and our 10-minute parking space made this a brief stop to check out the building's exterior look for 2017. We spent more time here in 2015, but the top of the building was still in pieces and the weather was rather dismal. Today the weather is perfect and the building is 100%, so we wanted to see the finished product.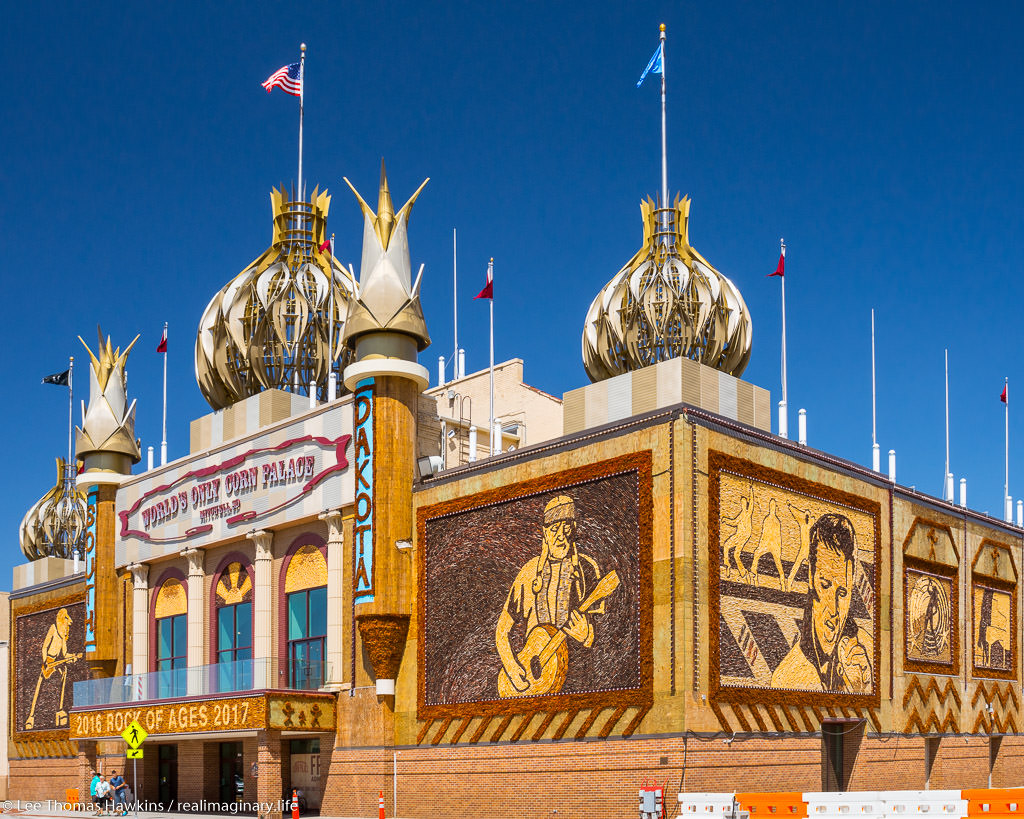 Badlands National Park
After three more hours of driving (and actually being able to see the Missouri River this time), we passed through the center of the state and arrived at the Northeast Entrance Station at Badlands National Park around 5:30pm. As we crossed the state and as we came into the park we could tell by the golden grass that this year was far more dry than when we visited in 2015. We stopped at the Cliff Shelf parking lot along the way to our campsite. Becky checked out the nature trail, while I walked up the road toward Cedar Pass to get a better look at the expansive view to the West.
We then drove the short distance to our site at Cedar Pass Campground. Within 30 minutes we had our tent set up and chicken breasts cooking on our handy little camp stove. (I'd hoped for hamburgers, but all of the packages had yet to thaw in spite of the heat!) There are no fire rings or fires allowed in Badlands National Park, so when ALDI had a portable camping stove for a mere $15, we jumped on it. We knew we'd use it on this trip, and it's quite likely we'll need it when we travel to the arid Southwest in September.
Driving the Badlands Loop Road at Dusk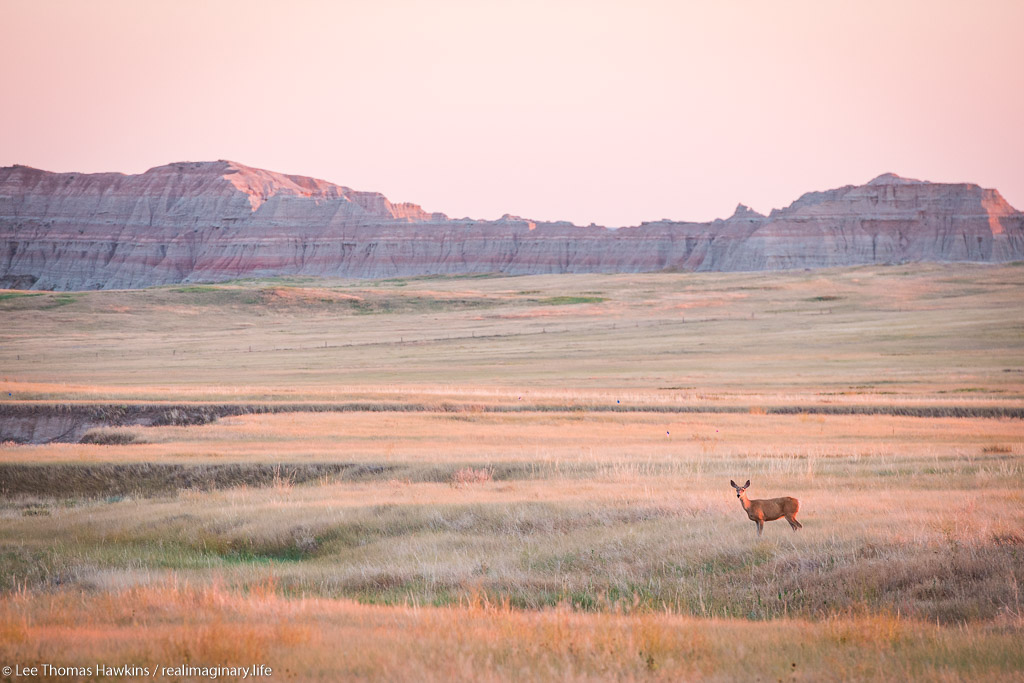 We finished dinner just a short time before sunset. I wanted to get out on the Badlands Loop Road to see the animals that come out at dusk. Becky was up for it, so off we went. The most we saw before the sun actually went down was a deer. But then we spotted something more exciting…
At the White River Valley Overlook, a perfect moonrise was in progress over a peak known as The Castle. I totally forgot about the full moon! It was a brilliant sight, wonderfully timed with the sunset.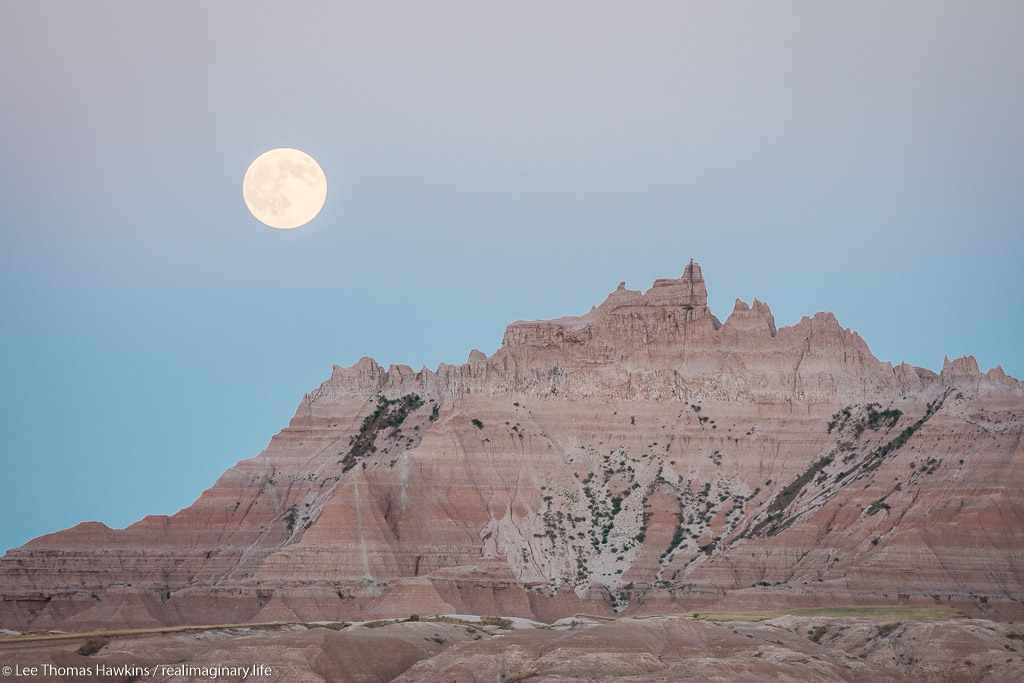 Before it got too much darker, we drove a bit further. We saw several pronghorn antelope grazing along the road near the Homestead Overlook. It was way too dark for any good photos though, so we turned around and headed back to camp. The bright moonlight made the jagged badlands look other-worldly.
Turning In for the Night
We got back to camp at 9:35pm. We already had our tent and sleeping pads set up. The only thing left to do was unroll our sleeping bags and jump into bed. While it was rather breezy when the sun was out, a mild breeze had set in for the night. The high temperature today was a warm 95°F and our evening low would be a clear and dry 68°F. As a result we pitched our tent without a rainfly so we wouldn't get too warm.
Thank goodness we got to bed at a reasonable time! Tomorrow's high would be a blazing inferno of over 100°F—so we'll need an early start if we want to do any hiking. We changed our clothes and settled into bed at 9:45. Sunrise was at 5:15am MDT and I planned for us to be up and about shortly after that.