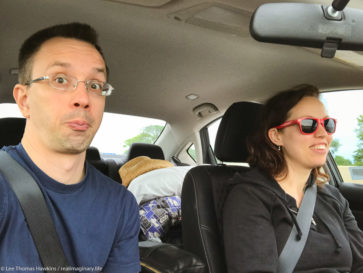 For the third year in a row, we are on the road and headed West in July! It's been a flurry of activity these last few days. We pulled everything together and got on the road at 4:40pm this afternoon. We passed uneventfully through Chicagoland right around sunset, with just the typical slow spot Downtown. We arrived safely at a Motel 6 in Madison, Wisconsin at 10:40pm CDT.
Equipment Upgrades
Packing the car was a little more interesting this time. We've upgraded and added some equipment. Becky now has a respectable daypack. It has a little more room, but more importantly it redistributes most of its weight from the shoulders to the hips. She also has a pair of trekking poles to lighten the load on her knees.
I too finally have a daypack, so I can now carry more than just my camera gear. This will be critical for us in September when we hike in the arid Southwest, where we'll both need to carry quite a bit of water to stay hydrated.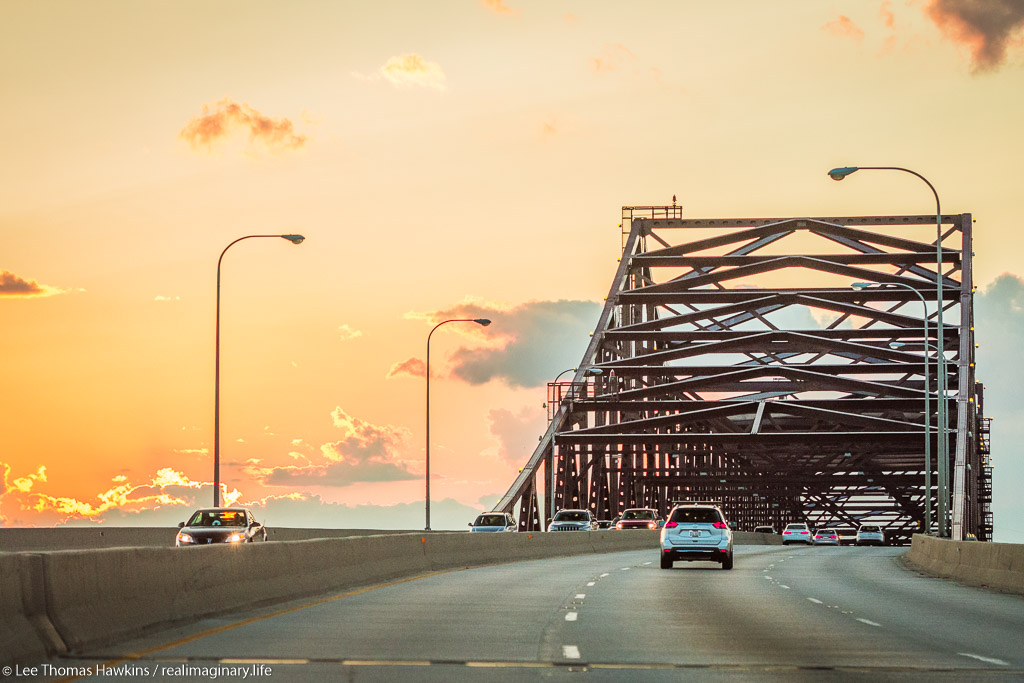 A New Car
This additional gear also has to fit into a totally new car for us. For the last two years we've ended up with a 2015 Chevy Malibu. This time we have a 2016 Nissan Altima. This car already has 42,000 miles on it but still rides smooth. It will take a while to get used to the steering wheel controls being in a completely different configuration than any other car we've ever driven, but we both like the way the stereo works and sounds better.
The trunk definitely has a different configuration too. Along with the new gear, we added an entire large container for nonperishable food. We've both made dietary changes that are extremely difficult to maintain on the road without us bringing more food from home. It took me a good amount of trial and error to make everything fit. The Altima's trunk has less vertical space, so things that easily stacked in the Malibu take new creativity to pack. Despite these issues, I managed to get everything into the trunk except for our pillows, sleeping bags, my clothing bag, and our cast iron stuff.
Motel 6 Madison East
Not to be confused with the Motel 6 Madison North just a couple blocks down the road, this motel had decidedly cheaper rates. I'd never expect one of these to be as good as a Hampton Inn, but there's definitely a reason the price is so low here. First off, the rooms could use some modernization. I love recliners, but the one in this room was on the verge of curb-worthiness. While the staff was friendly, the place definitely attracted seedy characters. The worst things, though, were the "scent" and a quality I can only describe as clammy…nothing was damp, but it smelled and felt like a great place for mold to move in. It wasn't as bad as our room in High Hill, Missouri, but everyone has to have goals. At least the air conditioner worked!
It took us a bit to get our stuff out of the car too. The motel uses key cards, but for whatever reason all of the outside doors are locked after 9pm so that you can only enter through the front door. As our room is almost the farthest from the front, it took a bit to get settled in.
Dinner At Last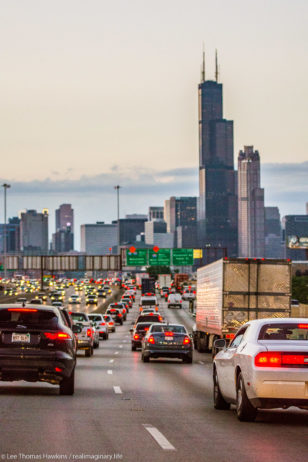 Dinner on the road is more complicated for us now too. We used to grab fast food on the road somewhere before Chicago. As I mentioned earlier though, Becky and I have both adopted healthier diets without processed foods and wheat, so we can no longer buy food willy nilly. And when we head west right after Becky gets off work, we push past Chicago to take advantage of the more favorable late evening traffic conditions. Since there's no good place to eat quick along the way, we just snacked until we got to Madison. (We could have stopped in Chicago, but that made us both way too tired to make it to Madison in 2015, and this time we have reservations there—failure was not an option!) So we were pretty tired and hungry when we finally got to our motel.
Once we got our bags out of the car and into our room, Becky held the back door to the motel open while I dug the ingredients for our late dinner out from the bowels of the car. It was well worth it in the end though! Becky mixed a can of chicken with an avocado and ALDI double-roasted salsa. We ate this with blue corn tortilla chips and it really hit the spot.
The Day Ahead
Without much further ado we both turned in for the night so we could get going again early tomorrow. We will spend about ten hours on I-90, with at least one or two stops along the way to our campsite reserved at Badlands National Park. If things go well, we may get there in time to fit in a hike or even a drive along the Badlands Loop Road with a stop at Wall Drug.
My notes for this trip are likely to be a bit more brief than past trips since not everything we do will be new to us. Either way there will still be plenty of pictures and plenty more stories to tell. The weather forecast is fair but quite warm, especially at low elevations like Badlands. So hopefully all our stories will be good ones…
Save
Save