Ready for our adventure to the Southwest on Route 66? So are we…but not until September! I promise I'll share our itinerary very soon, but right now we've squeezed in an 11-day trip to revisit a few areas from the past two years in more depth. We'll spend most of our time in the Black Hills and Badlands region in South Dakota/Wyoming, followed by stops at Rocky Mountain National Park in Colorado and the Wildcat Hills in Nebraska.
Highlights
11 days
10 states
OH, IN, IL, WI, MN, SD, WY, CO, NE, IA
3 national parks:

Wind Cave National Park
Rocky Mountain National Park

Also:

Black Hills National Forest
Custer State Park
Devils Tower National Monument
Wildcat Hills (Western Nebraska)
Back to South Dakota
One of our big discoveries on our first RealImaginaryWest road trip back in 2015 was the Black Hills and Badlands region in Western South Dakota. We scratched the surface at Badlands with a short hike and a drive on the Badlands Loop Road. We spent some time at Mount Rushmore, took a tour of Wind Cave, drove the Iron Mountain Road, and managed a very quick stop at Devils Tower in the Black Hills. At best we spent 48 hours in the region.
Becky and I both felt like we could come back and spend a week! Beforehand we of course knew about Mount Rushmore, and it was easy to spot the national parks and monuments on a map. Had it not been for a friend's suggestion though, we wouldn't have realized how exceptional the scenic drives in the area are, nor would we have driven through a tiny bit of Custer State Park. I remember seeing the campgrounds there and thinking that this was where I wanted to camp next time! I was also incredibly smitten by the beauty of the Belle Fourche River and the wonder that is Devils Tower. Now we'll get to really smell the roses and soak in the area!
Itinerary
| | | |
| --- | --- | --- |
| Day 1 | Fri | Depart Middleburg Heights, Ohio for a motel in Madison, Wisconsin. |
| Day 2 | Sat | Head to Cedar Pass Campground at Badlands National Park in South Dakota. |
| Day 3 | Sun | Explore the Badlands a bit before a short drive to Bismarck Lake Campground in Black Hills National Forest where we'll spend three nights. |
| Day 4 | Mon | Drive the Iron Mountain Road toward Mount Rushmore before exploring Spearfish Canyon. |
| Day 5 | Tue | Hike from Sylvan Lake in Custer State Park to the summit of Black Elk Peak, the highest point between the Rocky Mountains and the Pyrenes in France. |
| Day 6 | Wed | Get a tour at Jewel Cave National Monument before moving up to Belle Fourche River Campground at Devils Tower National Monument (we'll be sure to shoot sharp photos and steady video if any aliens land). |
| Day 7 | Thu | Make our way across Wyoming to Moraine Park Campground at Rocky Mountain National Park in Colorado. |
| Day 8 | Fri | Hike from Bear Lake to Odessa Lake, Fern Lake, and Fern Falls in Rocky Mountain National Park. |
| Day 9 | Sat | Head back to the Wildcat Hills to camp or get a motel in Scottsbluff, Nebraska. We'll meet up with a couple of my cousins from Denver and check out the Oregon Trail Days festival in Gering. |
| Day 10 | Sun | Continue east with a stop or few at Oregon Trail historic sites and museums we missed on our way through Nebraska last year. We'll camp or get a motel somewhere near Des Moines, Iowa. |
| Day 11 | Mon | Make the final push home, hopefully missing any rush hour traffic in Chicagoland along the way. |
More Scenic Drives, New Sites, and HIKING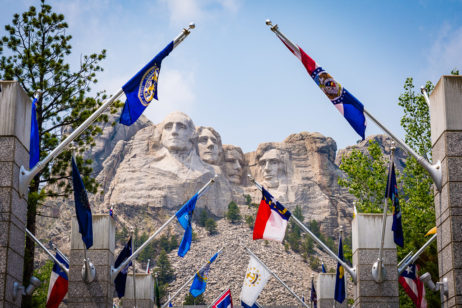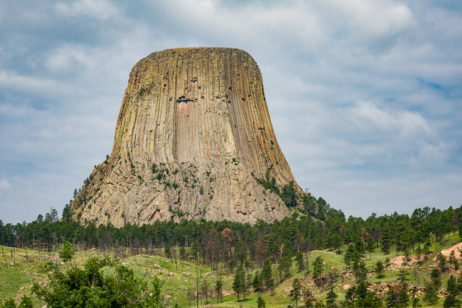 We will retread some of the attractions we enjoyed in 2015, but for the most part we'll enjoy completely new activities. We'll drive the Iron Mountain Road when there's a bit more daylight, and we'll also check out the Needles Highway and Wildlife Loop Road in Custer State Park. Becky is a lover of mammoths, so we have to go to the Mammoth Site in Hot Springs. We picked up a tour of Wind Cave in 2015, so this time we'll visit Jewel Cave.
Last time we had no time for serious hiking. That won't be the case on this trip! We'll make the quintessential Black Hills hike to the summit of Black Elk Peak (formerly known as Harney Peak) at 7,244 feet. Spearfish Canyon offers another scenic drive with several rewarding short hikes. And of course, we'll have time to really explore and enjoy Devils Tower just over the state line in Wyoming.
Tending to Unfinished Business at Rocky Mountain National Park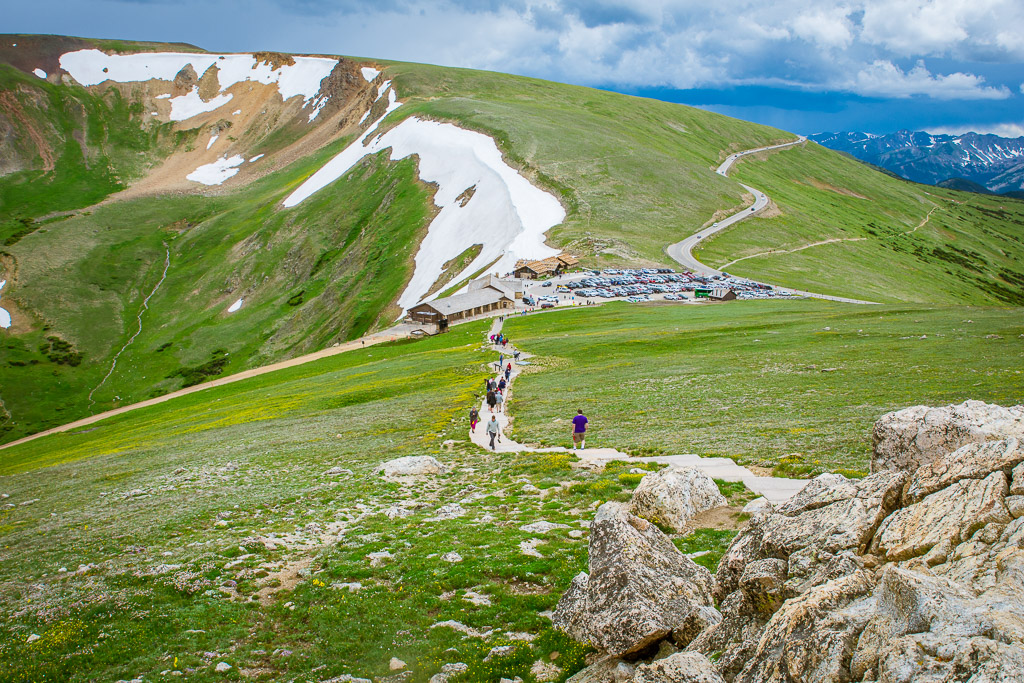 Thanks to my inexperience at altitude on our first trip, we were pinched on time and totally rushed through Rocky Mountain National Park. While we drove Trail Ridge Road, the original plan included a hike at Bear Lake. Stories and photos of how awesome this part of the park is really left me with a sense of unfinished business.
Therefore we will spend two nights just a few miles from the Bear Lake Trailhead. We plan to take an 8- to 10-mile hike from Bear Lake to Odessa and Fern Lakes and back to Moraine Park where we'll be camping. Hopefully we'll have a chance to do the short but classic Bear-Nymph-Dream-Emerald trail and take another drive on Trail Ridge Road.
Back to Oregon Trail Country in Nebraska Too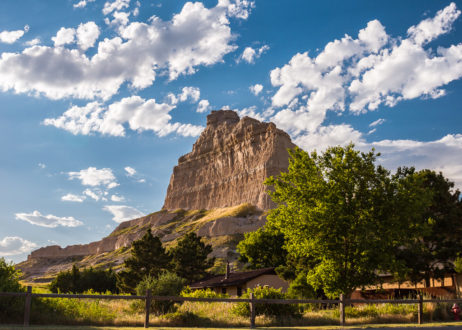 Originally I thought we'd be able to get together with my Aunt Pat and cousins in Denver, but our timing was all off. The plan now is to head straight from Rocky Mountain National Park to Scottsbluff, Nebraska. Two of my cousins plus significant others plan to be there then to visit family and go to the Oregon Trail Days festival in Gering—so we will get to catch up with some of the family.
On the way home from Scottsbluff, we plan to stop at one or two Oregon Trail historical sites and museums we didn't have time for last summer. Of particular interest is the Stuhr Museum of the Prairie Pioneer in Grand Island, Nebraska. They appear to have one of the finest museums along the route.
Our Route & Planning For This Trip
Since this is such a short trip, we'll spend a lot more time on the freeway than usual. Our route to Badlands National Park is entirely along I-90. We'll probably see a lot of I-25 from Devils Tower to Rocky Mountain National Park too. And on the way home from Scottsbluff, we'll primarily drive I-80. I've spent a reasonable amount of time working out activity details…so things should run smoothly like our 2016 trip, rather than decided on the fly like our adventures in 2015.
We're keeping a tight budget for this excursion too. We opted for a cheap motel for our first night. We may camp for the rest of the trip, but I'm leaving a motel as an option in cases of inclement weather on the Great Plains. Last time we visited these areas, we never discovered a strong culinary scene. As a result of that and our new diets which make it hard to eat out anyway, we're packing a ton of food which will hopefully be neither too much nor too little. Lastly, we've picked up some gear that we'll use on both trips this year, and I'll cover that more as it comes up.
We leave tomorrow! May the wind be at our backs…and not try to wipe us off of the Great Plains!
Save
Save
Save
Save
Save
Save
Save
Save
Save
Save